High Bright Gas Station TV
Engage Customers With Dual-Sided Pump-Topper Promotions
The gas station TV makes pump-top advertising easy and effective. Display your latest promotions on the 1,500 NITS screens to engage customers while they fill up their vehicles. An optional facial recognition camera ensures the most-relevant content gets shown, for maximum advertising ROI. Also ideal for third-party advertising and providing information to drivers at logistics hubs.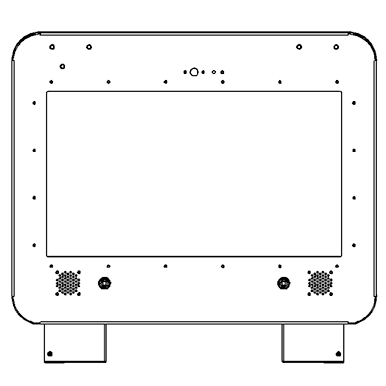 Product Code: PDS-24-PP-L-CB2-4X
Features:
Material: Aluminum
Screen Size: Dual 22" or 24"
Screen Resolution: 1920 x 1080
Screen Brightness: 1,500 NITS
Temperature Range: Subject to Installed Equipment

*

NEMA/IP Rating: NEMA 4X/IP66
Size (H×W×D) inches: 18.3×25×14.5
Good for:
Gas Stations
Parking Garages
Fleet Filling Stations
Logistics Hubs
Helpful staff – Informed and experienced on all products
Fast delivery – All over the USA (and Europe)
Five-year warranty – On all mechanical components
Reliable Gas Station TV For Effective Promotions In Any Weather
The gas station TV is designed with outdoor security and bad weather in mind. The lockable enclosure, with 6.4 mm anti-reflective glass, protects the screens from damage and theft, and a NEMA 4X rating prevents water and dust ingress. Thanks to an innovative environmental controller board, you can advertise continuously in extreme temperatures, for engaging promotions in all seasons.
The pump-top display is easy to install and maintain, making it suitable for gas stations of any size. Update your promotions remotely, via an optional network media player, and avoid going out in the cold to change your content. You can easily access the enclosure to repair, replace or update your hardware at any time, without calling out a specialist engineer, which saves you time and money.
*Note: Operating temperature range is based on the temperature of surrounding ambient still air when no solar load is impacting the pump topper. Operating temperature of media players, and additional electronic equipment, will impact the overall operating temperature range of the pump topper.
| | |
| --- | --- |
| Features | Benefits |
| Dual-Sided | Generate twice the advertising revenue from a single digital signage unit. The gas station TV engages customers on both sides of the pump. |
| 1,500 NITS Screens with 6.4 mm Anti-Reflective Glass | Your promotions look great in bright sunlight and from any angle, for maximum effectiveness throughout the day and in a range of weather conditions. Easily connect the screens to a range of inputs via HDMI, VGA and DVI. |
| Optional Motion Sensor and Facial Recognition Camera | Use facial recognition technology to boost the effectiveness of your advertising by showing tailored content based on a customer's age and gender. The motion sensor detects the presence of a car or person, ensuring your content gets shown at just the right time. |
| Built-In Speakers | Enhance your promotions with great sounding audio. The dual-sided digital topper has 2.0 channel stereo speakers with 3W + 3W output. |
| Two Mounting Options | Install the gas pump TV using the best method for you. Mount the enclosure above the pump or attach it directly to the pump top. |
| Aluminum Enclosure Rated to NEMA 4X/IP66 | Install digital pump toppers with confidence in outdoor locations. The weatherproof enclosure protects internal components from rain and wind-blown particulates. |
| Environmental Controller Board | Maximize revenue with gas pump digital signage that works reliably all year. Components operate at a stable internal temperature, allowing you to advertise without interruption in extremely hot and cold conditions. |
| Easy Access via Key-Operated Locks | Easily access the enclosure to repair, replace or update your hardware at any time—no specialist engineer needed! |
| Optional Network Media Player | Quickly and easily display your latest promotions. Update the displays remotely to show the same or different content across all networked pump toppers, without going outside in bad weather. |
Specifications And Guarantees
All Armagard enclosures are built in accordance with International NEMA and European IP standards, guaranteeing protection from liquids and particulates.
We Guarantee:
Five-Year Warranty on Mechanical Parts
One-Year Standard Electrical Warranty, with a Five-Year Extended Warranty Available
Informed and Helpful Support Staff
High-Quality Engineering
Over 25 Years of International Industry Experience
Excellent, Ongoing Customer Service
Lifetime Technical Support