Posted by: Richard Williams | Posted on: | 0 Comments
People often think of digital signage as a complicated business. Filled with jargon and complex terms, many people are put off implementing a digital display due to this complexity. This is a shame, as digital signage and digital displays are one of the most effective methods of getting information, messages and advertising across to an out of home audience.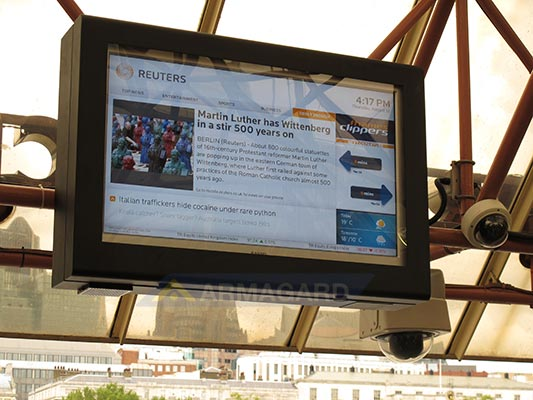 Whether you are a business, retailer or service provider, good communication is an essential aspect to any organisation, and no other medium is as effective and as flexible as a digital display for providing all sorts of messaging.
And digital signage isn't complicated, not when you strip away the jargon and look at the basic building blocks that go into a digital display.
Display for Digital Signage
The most fundamental component is the display screen. This is what displays the message to an audience, and could be an LCD TV, a plasma screen, touch screen or an LED display board. Screens can be installed in portrait mode (vertical) or landscape (horizontal). Digital signage displays come in various sizes from large digital billboards to small, compact screens at a convenience store point of sale, but whatever the size, type and orientation of the screen it needs to be able to display digital content.
Player for Digital Signage
Another crucial component of any digital signage display is the player. These too come in various shapes and sizes from small media players for display content on single screens to more complicated systems able to deliver content to a network of displays. Essentially, a digital signage player is just a PC that is able to handle digital images and distribute it to a display device.
Software for Digital Signage
All digital signage players require some form of software platform to send the content from the media player to the screen. Again, a wide selection of different software platforms are available with varying functionality, but most digital signage software systems enable content scheduling and handle variable timings.
Enclosure for Digital Signage
Often overlooked, a digital signage system requires some form of display enclosure to house the screen and media player. Digital signage enclosures also come in a variety of types, from simple housings that allow homogeneity of the displays to sophisticated outdoor digital signage enclosures that enable the screens to operate outdoors and in variable weather and ambient temperature.
Content for Digital Signage
The final basic component for any digital signage system is the content. Content can be anything from important information aimed a staff and visitors, schedules and timetables, to advertisements, promotions and branding information. Whatever the content, making full use of the capabilities of a digital signage system is key for successful content creation.
Post shortlink:
Popular Products