Posted by: Richard Williams | Posted on: | 1 Comments
Expo season has arrived with many digital signage exhibitions taking part across the globe throughout the coming weeks and months. ISE Amsterdam (Integrated Systems Europe) at the start of February had the distinction of hosting the world's largest number of DOOH manufacturers (digital out of home) so far.
ISE included hardware manufacturers, software producers and content creators, and over 34,870 people visited the show over the three days, an increase of 22% over the previous year.
One of the most noticeable things about the show was the prevalence of freestanding standalone units (aka: totems, kiosks, floor standing units or floor standing digital posters) providing advertisers and consumers an extensive choice of sizes, styles and approaches.
These stand-alone units are often an easy solution for digital signage as they contain everything needed to run a campaign: screen, content management and network systems so they can be installed in a mall, retail unit or other location; providing a turn-key solution.
Interactivity was another common theme throughout the show with a myriad of touch screen, motion tracking and other interactive digital signage solutions. Interactivity is expected to play a large part in the future DOOH industry with advertisers realizing the appeal of interactivity to consumers.
3D was another feature of the show and while the traditional 3D glasses are probably not relevant for digital advertising (few people walk around the street wearing 3D glasses) there were some impressive glasses-free 3D systems being demonstrated which certainly has a future in digital out of home advertising.
While three quarters of the exhibitors were European, the next exhibition in the world of DOOH will be the Digital Signage Expo (DSE) in Vegas between 22 – 25 February, which is expected to be an even bigger and more impressive show, where far more American digital signage companies will get the chance to demonstrate their wares.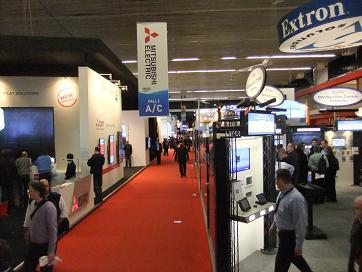 Post shortlink:
Popular Products