Posted by: Richard Williams | Posted on: | 0 Comments
One of the London's most famous landmarks has to be Piccadilly Circus, which connects Regent Street and Shaftesbury Avenue, and where for the last few decades, giant neon advertising has been buzzing away. Similar to New York's Times Square, the large advertisements in Piccadilly Circus have become an iconic image of the city, but these NEON signs are set to disappear.
Already, many of the neon signs that occupy the busy London thoroughfare have been replaced by modern outdoor digital signage displays, and now, the last of its kind, a 340 sq ft neon Sanyo sign, is to be taken down after the ad space owners are planning to install a more modern digital LED sign, to coincide with the Olympic games.
Advertising has been displayed in Piccadilly Circus since 1908, the Japanese electronics giant installed their giant advertisement in 1978, and since then, the Circus has become synonymous with large-sized billboards which have always attracted big name sponsors like Sanyo, Coca Cola and McDonalds.
Now, with the Sanyo sign the last of the neon signs to be removed from the Circus, it truly spells the death knell for neon. Fortunately, for advertisers, modern LED and outdoor digital signage displays have several advantages over neon
Firstly, modern LED displays use far less power than neon signs, which is both environmentally and monetarily advantageous. Secondly, content on digital signage can be changed instantly, unlike Neon signs that are shaped and made for just one company. This means that more advertisers will be able to take advantage of the huge audience of 59 million people that traverse Piccadilly Circus each year.
As it is not often space becomes free in Piccadilly Circus, and with the 2012 London Olympics fast approaching, there is expected to be a high demand for advertising on the new LED sign when it is finally erected.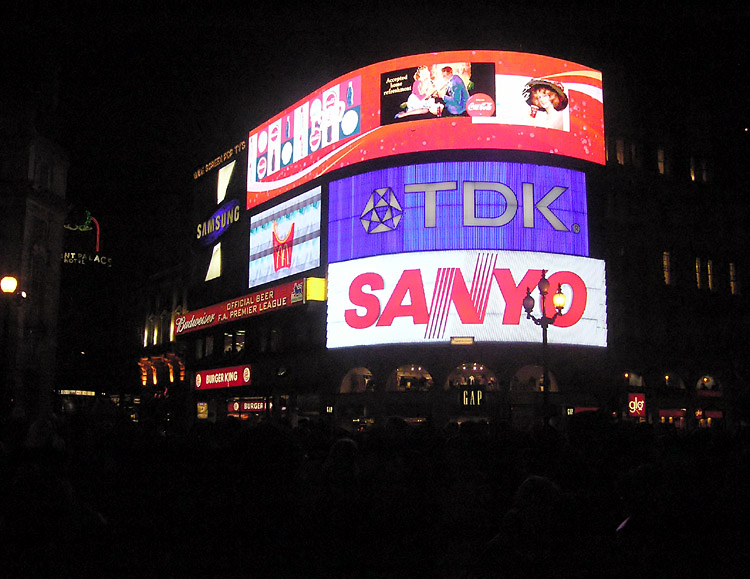 Sanyo is the last Neon sign at Piccadilly Circus
Post shortlink:
Popular Products