Posted by: Richard Williams | Posted on: | 0 Comments
Since LCD televisions began replacing the bulky, old cathode ray tubes a little of a decade ago, televisions began to become a regular sight outside of the home too. From airports to shopping malls, LCD screens have become a popular form of communication, and it's not just in indoor location. Outdoor screens are increasingly becoming popular, partly due to protective housings such as the outdoor LCD enclosure, which enables almost any standard LCD screen to be taken outdoors, providing all the necessary protection against weather, temperature and impact.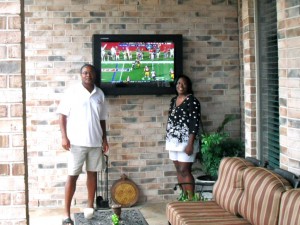 LCD enclosures provide comprehensive outdoor protection, with a NEMA rated weatherproof housing, internal temperature controlled systems such as heaters and cooling fans, not to mention shatterproof screens and a solid powder-coated mild steel construction that is impervious to impacts and vandalism. But LCD enclosures greatest asset is its flexibility. Almost any screen, from any manufacture, and of any size can be housed inside an LCD enclosure enabling its use outside in any weather or ambient conditions. Because of this flexibility, LCD enclosures have become incredibly popular. Here are the main applications for LCD enclosure use:
Outdoor Advertising
In today's world of fragmented media, getting advertising messages, promotions and branding across to a large audience is both difficult and expensive. Outdoor digital advertising is a cost-effective method of reaching huge audiences and spreading marketing information. With its bright, vibrant and dynamic nature, and outdoor advertising screen is far more noticeable than standard static advertising and being able to upload new content remotely provides advertisers with a system that is easy to manage, doing away with the need for technicians to travel around and replace content.
Information Screens
From transport hubs that need to communicate timetables and scheduling information, to schools, public libraries, museums and even religious buildings, an outdoor screen is a modern and dynamic method of informing people of events, opening hours and even crucial information such as emergency warnings. Because information can be uploaded in real-time, it is possible to keep people informed as and when information comes in, enabling service providers to keep their customers informed of delays or cancellations in service.
Outdoor TV
And it's not just commercial users that install outdoor LCD enclosures. Because of their flexibility and LCD enclosure makes for the ideal outdoor TV system. Often used in pubs and bars who want to provide outdoor entertainment to customers, householders are increasingly using outdoor LCD enclosures to place TVs on their patio, poolside or barbecue area. Stylish, discreet and secured against theft and vandalism, LCD enclosures provide an outdoor TV solution that can be left outside, overnight and in all weather.
Post shortlink:
Popular Products