Posted by: Richard Williams | Posted on: | 0 Comments
Outdoor LCD TV enclosures provide a flexible method of using standard LCD TVs outside for all sorts of purposes. From outdoor digital signage and outdoor digital advertising to outdoor information screens and even outdoor TVs for entertainment, outdoor LCD TV enclosures provide a cost-effective and comprehensive protection system for modern LCD devices.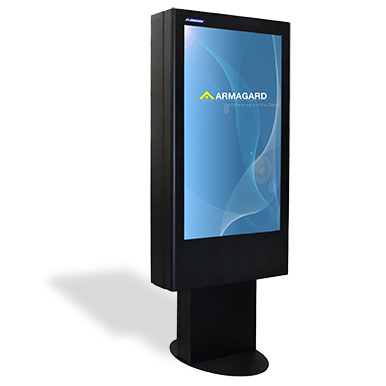 The types of businesses that use LCD TV enclosures varies as much as the types of applications for LCD enclosures, but here is a list of some of the most common types of business applications that outdoor LCD TV enclosures are employed for:
Outdoor Digital Advertising
Outdoor digital advertising is a highly effective method of promoting products and brands. Because of the large volume of people in outdoor environments, outdoor digital advertising can reach far more eyes than indoor systems. With the ability to change content remotely and digitally, advertisers no longer have to pay printing costs or send people round to different advertising sites to put up new content. Adverts can also be scheduled for specific times of day to target certain audiences.
Outdoor LCD TV enclosures provide a cost-effective and flexible method of installing an outdoor advertising screen. With a wide range of sizes available, outdoor LCD TV enclosures can house screens as large as 70" and keep them protected all year round.
Outdoor LCD TV Enclosures for Company Communication
For companies that are spread over large outdoor areas, such as distribution hubs where there is a need to communicate relevant information to HGV drivers and other employees, outdoor screens provide an effective and efficient form of communication. LCD TV enclosures enable screens to be placed in all sorts of outdoor environments, enabling effective communication day or night.
Outdoor LCD TV Enclosures for Information Screens
Because of the ability to relay information almost instantly, LCD screens provide an effective method of giving out information. Transport hubs such as train stations and bus depots make use of outdoor LCD TV enclosures by using them to offer timetable information on platforms and on bus shelters, keeping customers informed of the latest scheduling changes.
 Outdoor LCD TV Enclosures for Messaging
For institutions such as school, colleges, churches and other public buildings, keeping people informed of events and important information can be challenging. Placing outdoor LCD TV enclosures near an entrance ensures that important information can be relayed to all visitors as they arrive.
Outdoor Digital Signage
Whether you want to give somebody directions or just want a modern and eye-catching method of branding or displaying a company name, an outdoor LCD TV enclosure provides an effective and aesthetically pleasing form of outdoor signage. Flexible and able to accommodate almost any make, model or size of screen, an outdoor LCD TV enclosure is an efficient and cost effective form of outdoor digital signage.
Post shortlink:
Popular Products